Wynne Dreams Come True
Molly Heath is the ultimate multi-tasker. The mother of two from Wynne, Arkansas, wanted to earn a Bachelor of Science in Nursing, but she couldn't seem to find the right opportunity to do so. Then she learned about the program offered by the University of Arkansas Online, and the stars aligned for her to pursue her dream.
Heath had already completed an associate's degree from her local community college and was working three jobs when she decided to enroll in the online program. She was also juggling all of the demands of family life and the schedules of her two kids.
"With all of the changes happening in healthcare, I felt an additional degree would be necessary, but I didn't want to make a weekly commute," she said. "I found the online program to be unbelievably convenient, especially for having a family. It was also challenging, but I received amazing feedback from my instructors in such a positive manner."
Heath received the W.E. Manning Memorial Scholarship Fund from the university, which helped her pay for her education toward her goal of eventually becoming a nurse practitioner.
"The scholarship made a very big difference to me," Heath said. "It was helpful and reduced the amount of student loans I had to take. When you're raising a family, anything helps. I'm very thankful to the donors and any organization that puts forth scholarship opportunities for its students. When my kids go to college, I'll be sure to have them apply as well."
Heath's son and daughter were well aware of their mother's dedication to her dream, with her daughter often grabbing her laptop to "work" alongside mom on study days.
"I believe this experience has had a positive influence on my kids," Heath said. "I wanted them to see what hard work does and inspire them to do the same."
When graduation day arrived, Heath decided to make the drive to the Hill with her family and walk across the stage for commencement. That celebration also gave her the opportunity to meet several of the instructors she had worked with over the course of her program.
"Graduation was fun and a very positive experience," she said. "Graduating from the University of Arkansas was always something I wanted from the beginning."
Now that she has completed her bachelor's degree, Heath has her sights set on a new goal – earning a graduate degree. And true multi-tasker that she is, she's doing so while teaching nursing courses full-time at a nearby community college.
"I never wanted to teach until I had my online courses," she said. "And when I'm there, I encourage all of my students to check out the university's online programs."
Make Education Accessible
Scholarships help make education accessible for more students, particularly those from Arkansas.
Endowed and non-endowed scholarships can be established in recognition of academic distinction or demonstrated financial need (or both).
Scholarships can also be focused on certain geographic areas or high schools and particular majors that the students will pursue as college students.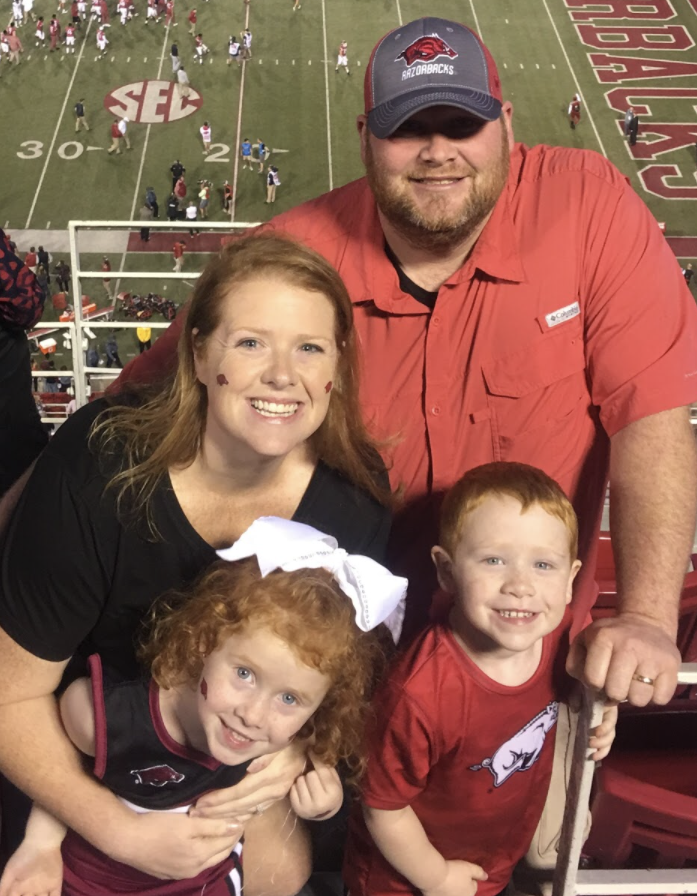 Molly Heath and her family at a Razorback football game.