Finding a Home on the Hill
Transferring to a new college or university can be overwhelming and intimidating, but sophomore Faaiza Bhatti is glad she took the plunge. The Little Rock native became interested in the University of Arkansas when her sisters attended but never considered it to be an option for herself because of finances.
Bhatti started her higher education journey at another regional university, where she was fully covered by scholarships. The experience, though, was less than ideal and left her feeling like she wasn't embraced as part of the community. She began to consider her options for transferring to the place she had always dreamed of attending, though she was skeptical about the process.
"Even applying seemed pointless, because I didn't think it would be possible financially," she said.
The application, though, paid off. Bhatti was accepted to the U of A and offered an Advance Arkansas scholarship. It was an offer that took a weight off her shoulders immediately.
"I felt better about the idea of being happier and being able to come to the U of A," she said. "It had been an ongoing conversation between me and my parents, and suddenly it was possible. My whole family was excited and proud."
As a student at the U of A, Bhatti is having a completely different experience than she had at her previous university.
"The people are nice, and I feel comfortable here," she said. "I really like how the students are open-minded. They're kinder. They smile at you. It's easy to meet people and be involved. The academics are better as well."
Bhatti is enrolled in the J. William Fulbright College of Arts and Sciences and hopes to attend dental school after graduation. In the summer prior to her sophomore year, she volunteered at clinics for the homeless and veterans, as well as at family practices. Ultimately, she would love to travel and volunteer as a specialized dentist and give back through her profession.
"I'm looking forward to what will change with my life," she said. "I probably wouldn't have come here without that scholarship. I'm really glad I transferred here, and I couldn't imagine being anywhere else."
Address the Need
The yearly cost of attendance for an Arkansas resident at the U of A exceeds $24,000, while the state's median family income is less than $42,000.
The average U of A loan debt for undergraduates is $21,911 at graduation.
Advance Arkansas scholarships are designed to cultivate diverse student talent within the state, address growing inequality in access to higher education and provide resources for student success at the U of A.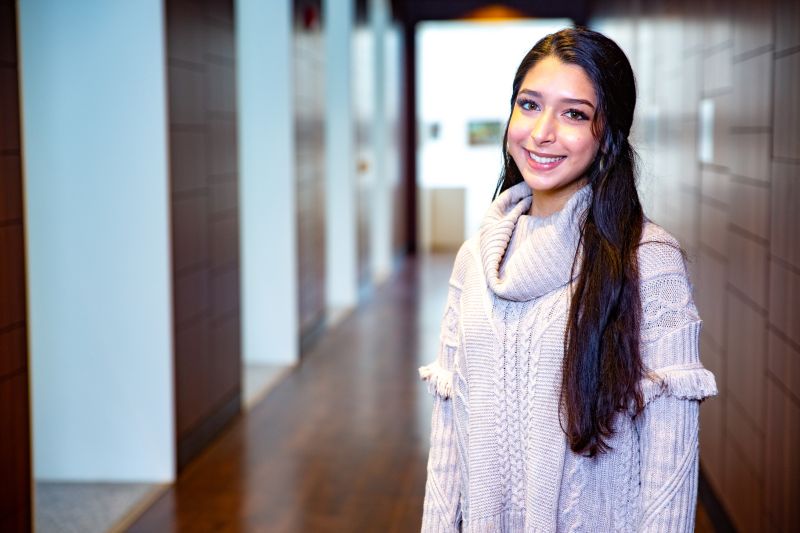 Faaiza Bhatti