Program Support
"When you look back over your career, you think about the impact – the people who gave me the background and skills to have the career I had. I wouldn't have had the career I had without the university. It gave me good memories and the opportunity for a great education."

– Leon Wittmer (B.S.E.E. '75, M.S.E.E. '76)
Delivering Care in Another Country
In 2017, the Eleanor Mann School of Nursing in the College of Education and Health Professions sent its first cohort of students to Ghana for a study abroad service learning experience. They visited some of the areas with greatest need, educating the residents of Bolgatanga about topics ranging from infant hydration to malaria prevention. Since then, the program has continued year after year, and the opportunity has become a treasured experience for nursing students. Many come away from it with a new outlook on life and a renewed sense of purpose for their future careers.
"We do not go into the country to do patchwork medicine," said Carol Agana, a nurse practitioner and instructor in the College of Education and Health Professions who oversees the program. "We go to provide education on health-related issues to improve the life expectancy."
Prior to the trip, students are given a list of health needs, and they can select the areas of interest to them for teaching. They also spend time in a clinic, where they learn about tropical illnesses, how care is delivered in a third world country and how to interact with other nurses and nursing students.
Teaching projects in Ghana have included infant hydration, malaria prevention, sickle cell anemia, wound care, the benefits of wearing reading glasses, prevention of respiratory illnesses, CPR and mouth-to-mouth breathing and choking remedies. Dental hygiene is also taught to village children.
Nicole Capdevila, a student who visited in 2018, worked in a clinic in Bolgatanga and wanted to see a live birth during her experience, since she was interested in women's health nursing. She connected with a woman in labor who had visited one of the clinics and chose to stay with her throughout her labor. They spent hours talking and learning about each other, and Capdevila also used the opportunity to educate her patient about protecting her baby with mosquito nets, proper hydration, breastfeeding and immunizations. When the time came for the baby to be born, Capdevila assisted with the delivery. She did a physical assessment on the new baby girl and brought her to her mother in the maternity ward. When she asked for the baby's name, the new mother replied, "My new baby is named Nicole."
Sofia Leon participated in the program in 2019 and says it also made an impression on her life.
"We were able to explore Ghana and experience a different way of life," Leon said. "The trip taught me more than words can express. I learned so much about life and myself and hope to continue to share my talents with others. I have learned about the disparities in health care across the world and hope to continue to do work in areas that don't have the resources that we do."
Abbey Dillon says her experience taught her to be more empathetic and compassionate, as well as resourceful. She visited Bolgatanga in 2017.
"I learned that community education, philanthropy and service are very important elements when it comes to being in the healthcare field," Dillon said. "I came home a changed person and not a day goes by that I don't wish I could return. My experiences in Ghana have only heightened my drive and passion for this profession."
Funding for the Ghana program has largely come from crowdfunding support, thanks to the FundRAZOR platform organized by the Office of Annual Giving. The students participating in the program have utilized the FundRAZOR platform since 2018 and have raised more than $18,000 toward their service learning experiences.
Since 2017, 44 students have participated in the program, demonstrating how an initial idea and investment can multiply its impact with private gift support.
Impact Valuable Programs
Private gift support is used for operating costs and activities critical to campus; developing and implementing interdisciplinary courses, curricula, minors and professional master's degree programs; and promoting greater globalization for teaching, research and outreach.
Campus programs, like this service learning experience in Ghana, enhance the student experience at the University of Arkansas.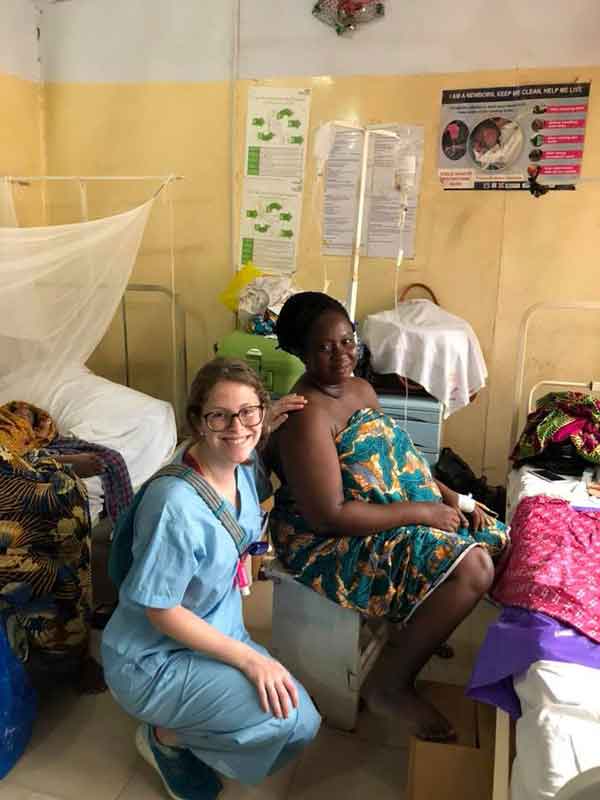 Nicole Capdevila helped this woman through labor during her experience in Bolgatanga.
Give Now to Support This Program
Other Program Stories