Music and the Mind
Lucas Bellaiche has always loved music. During his first semester of college, he became introduced to the Music Cognition Lab at the University of Arkansas, and it sparked the possibility of something more – the chance to combine music with the study of psychology.
Through his involvement with the Music Cognition Lab, Bellaiche met Elizabeth Margulis, distinguished professor of music theory and music cognition, and she became a mentor for his research. Bellaiche chose to study how individuals form narratives when they listen to music, and this research may become the basis for his thesis.
Complementing his three majors – music, psychology and statistics – Bellaiche has also studied abroad. The summer after his freshman year, he traveled to Barcelona for an experience in cross-cultural psychology, which gave him insight on the different approaches to psychology across the globe. During his sophomore year, he participated in an Honors Passport Program to Sicily for two weeks, which he described as "absolutely amazing."
These international experiences – and the time he can spend researching, learning and practicing his instrument – are possible thanks to the Sturgis Fellowship, one of the university's most prestigious (and oldest) fellowship programs.
"I'm very lucky to have received the Sturgis," Bellaiche said. "Studying abroad has shaped me to be a better student and a better person overall. It has offered incredible opportunities."
The financial support Bellaiche receives is coupled with personal support from faculty mentors to create a truly transformational academic experience.
"I get a lot of individualized attention from my mentors and professors," he said. "They are mentors for life in general. I know I made the right decision to attend the University of Arkansas. It helped me find my passion and the inspiration for my future career."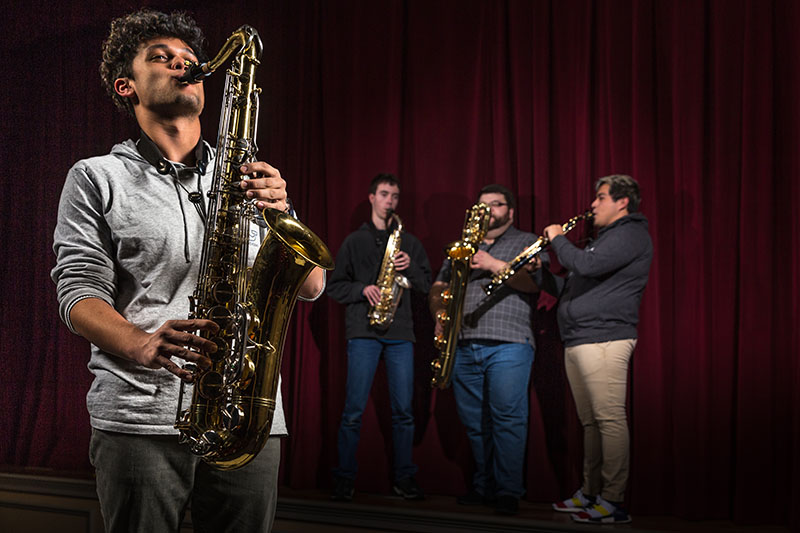 Lucas Bellaiche