University Libraries
"It's incredibly important to support our libraries. Curtis and I are excited to be a part of this project. Students need more space, better access to technology and a pleasing environment if we want them to thrive."

- Jane Shipley, B.S.B.A. '64, M.Ed. '72
A Space Transformed
The University Libraries – with its study spaces, robust collections and expert subject librarians – have continued relevance in an increasingly digital world. This is attributed to a philosophy of monitoring users' changing behaviors and adjusting to meet those evolving needs.
Dennis Clark, dean of University Libraries, says the faculty not only assist students with their research and studies, but also actively listen to better understand their current learning and research challenges. In this way, the Libraries can reimagine services and solutions to address those challenges and increase student success. Case in point: Mullins Library, the central research library in the heart of campus, is currently being renovated to better meet campus needs.
Thanks to Campaign Arkansas and the gifts from many generous donors, the Libraries will be able to offer great improvements to facilities and services for the campus community.
"Their funding is deeply valued," said Joel Thornton, who served as interim associate dean for research and learning during the campaign. "It's critical to the library's success and the success of the university as a whole."
Initially focusing on the third and fourth floors, the renovation will offer a quiet floor with a variety of spaces, as well as a more active, vibrant floor with a contemporary feel. An additional 1,900 seats will be added, increasing the Libraries' capacity for serving students, faculty and staff who need a welcoming place to research and study.
Clark says the renovation will enhance Mullins by allowing for dedicated faculty and graduate student collaboration space, which is a new feature for these groups. The spaces will feature flexible seating options, booths and reading rooms to improve student attention and focus.
Faith Harlin, a junior from Gainesville, Missouri, says she's glad there will be more seating and resources for students.
"I've used Mullins Library a lot – especially during my freshman year," she said. "It's one of the most useful places on campus and is an easy place to meet people and study."
Donor support is also responsible for the materials and spaces that students, researchers and faculty need to collaborate, create, and discover on campus, which ultimately impacts the university's ability to distinguish itself as a premier research institution.
"Simply put, private gift support for this project directly impacts our ability to enhance learning, teaching, and research for the university," said Clark.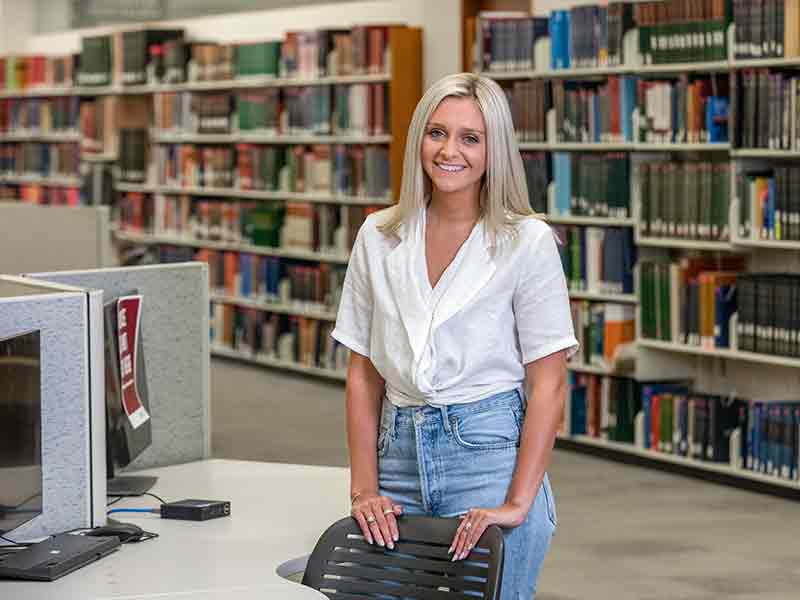 Faith Harlin
Contact
Rachel Krest
Director of Development
479-575-7092
rachel@uark.edu