Intercollegiate Athletics
"Baseball and track have been outstanding programs for the Razorbacks for many years. The Training Center is a fantastic new and nationally recognized addition which will no doubt provide many benefits for years to come."

- Wallace Fowler, Honorary Doctor of Arts and Humane Letters 2018
Fostering Phenomenal Student-Athletes
Morgan Burks-Magee, a junior from Dallas, came to the University of Arkansas because of its championship environment and family feel. For her, it turned out to be "everything I've dreamed of in one place."
"I've had a phenomenal experience," she said. "I've been a part of a U of A legacy, and I've run on the fastest track in the world."
That track is adjacent to the Fowler Family Baseball and Track Training Facility, which was supported by a $2.5 million gift from Wallace and Jama Fowler in 2014. The indoor facility is connected to the north end of the Randal Tyson Track Center and has served thousands of Razorback student-athletes. It boasts approximately 52,000 square feet of climate-controlled practice space, which features a full size practice infield, throwing area, batting areas and ancillary team spaces.
For track and field, it provides an expansive check-in and warm-up area for track meets and allows all indoor meet throwing events to be held on site. Razorback Athletics has hosted 27 home meets since it opened in 2014, including the NCAA Indoor Championships in 2015 and the SEC Indoor Championships in 2016 and 2019. In 2021, the Razorbacks are scheduled to host both the SEC Indoor and NCAA Indoor Championships.
"I like that everything is very close," Burks-Magee said of the facility. "It makes it more fun during meets. The lanes are wider and the materials are professional quality."
The Fowler Family Baseball and Track Training Facility has been a true asset to her training and performance as a student-athlete. Burks-Magee was the third fastest freshman for the indoor 400 and typically runs the 400, 4x400 relay and 400 leg of the distance medley relay indoors. In 2019, she earned a pair of first-team All-America honors for indoor track and field.
A kinesiology major, Burks-Magee hopes to run professionally and then pursue a career as a chiropractor.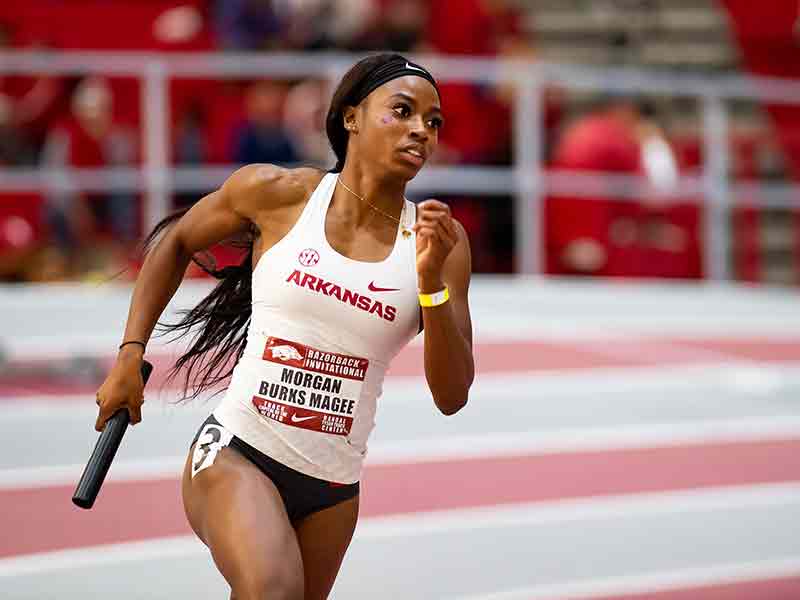 Morgan Burks Magee
Photo by Walt Beazley
Contact
Hunter Yurachek
Vice Chancellor & Director of Athletics
575-7641
athldir@uark.edu