Arkansas Alumni Association
"Going to school in Fayetteville was a big part of my life. It gives me chills to think about all of the connections these students will make in college. Even as an alumnus, the university continues to give me more – whether through relationships or opportunities."

- Kenny Gibbs, B.S.B.A. '85
Enriching the Experience
A full-time job plus work as a full-time student can be a challenging combination. But thanks to the William R. Toller Alumni Legacy Endowed Scholarship from the Arkansas Alumni Association, sophomore Honors College student Aaron Mattingly can focus on the latter and, ultimately, even enrich his entire student experience.
Originally from Bentonville, Mattingly said one of the reasons he chose to attend the University of Arkansas was for its biology and nursing programs. As a freshman, he was awarded the Toller Alumni Legacy Scholarship, and he says it's provided much-needed financial assistance.
"I now don't have to work as much, which allows me to do other things like intramural sports, which I love to do," Mattingly said. "It has also allowed me to be more involved on campus."
The William R. Toller Alumni Legacy Endowed Scholarship was created in 2013 as part of a $1 million gift to memorialize alumnus William R. "Bill" Toller. Toller's wife, Jo Ella, and their children provided $750,000 toward the Jim and Joyce Faulkner Performing Arts Center with the gift, and the remaining $250,000 established the scholarship for the benefit of the Arkansas Alumni Association.
"The scholarship honors something my father was always passionate about – giving students the opportunity to afford a quality education," Bob Toller, Bill and Jo Ella's son, said at the time of the gift. "We hope this gift makes a meaningful impact on the university that he loved so dearly."
For the Arkansas Alumni Association, providing scholarships means not only helping students financially but also giving them life-changing opportunities through academics and engagement beyond the classroom – in campus organizations and activities that build skills and connections for life. And for students like Mattingly, this means they can make the most out of their college years. The Association awards more than $1 million annually through its pool of scholarships and provides a vital link between students and alumni who feel pride and loyalty for their alma mater.
Since its creation, the Toller Alumni Legacy Scholarship has benefited two students – Tiffany Robinson, a 2018 graduate of the College of Education and Health Professions – and Mattingly, who hopes to pursue either dental school or medical school after graduation.
"Scholarships like this are very important for students, because it shows that if you apply yourself in college and get good grades, you can get the aid that you need," Mattingly said.
"This scholarship has impacted my life, because I don't have to necessarily take out loans now, and I don't have to work a full-time job while maintaining life as a full-time student too."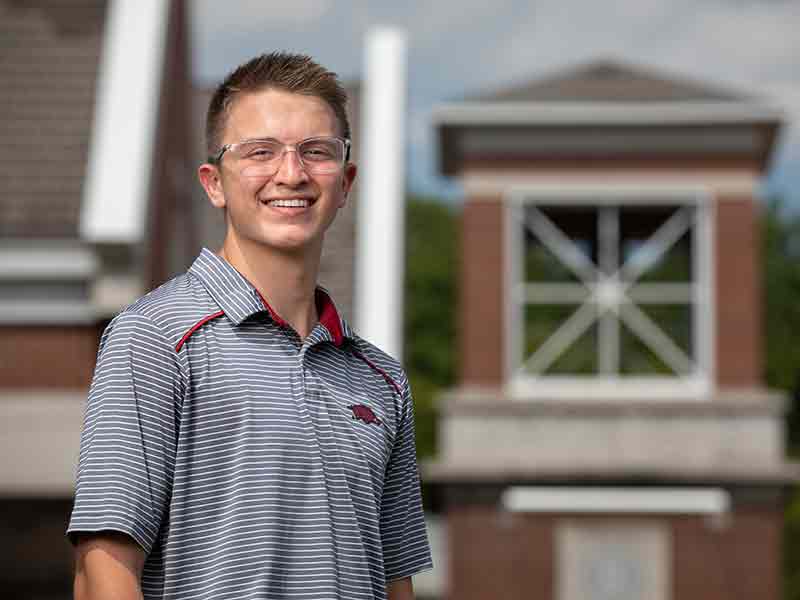 Aaron Mattingly
Contact
Brandy Cox
Associate Vice Chancellor and Executive Director
479-575-2801
brandyac@uark.edu