Diversity Initiatives
"The poet and author Maya Angelou wrote, 'Try to be a rainbow in someone's cloud.' I served on the campaign committee for diversity and inclusion because I wanted to make sure that everyone could attend and continue attending our great university. Mary Ann and I are committed to helping our university move forward in terms of diversity and inclusion, whether it be for students, faculty, staff or others who are part of this wonderful university, and we applaud the efforts being undertaken to move us forward."

- Reed Greenwood, B.S.E. '61, M.Ed. '62, Ed.D. '74
CARE for Students
Ayanna Evans received the Camden E. and Dortha Sue Greene CARE Endowed Scholarship at the perfect time in her life. The Chicago and Texarkana native had just taken out a loan to help pay for school when she was notified of her award.
"It encouraged me to keep going," Evans said of the scholarship. "It motivated me, because it meant people saw something in me. This was an opportunity for me to help finance my education."
Evans, who is a first generation college student, has embraced opportunity at the University of Arkansas. She is an accounting major in the Sam M. Walton College of Business who also studies Information Systems. One day, she hopes to earn her Master of Accountancy and become a CPA.
She also serves in the Arkansas Army National Guard, having completed basic training immediately after high school. She said being a part of the National Guard helped motivate her to go to college and earn a degree from the U of A. Along the way, her family has been incredibly supportive of her hard work and determination
"My family is happy for me," she said. "Earning this degree is something different, and they give me endless support."
Evans says the university has also done its best to help make her transition to college life smooth. And scholarship support, like the one she received, definitely does its part to make things easier.
"I'd like to say a big 'thank you' to the donors," Evans said. "People who donate scholarship money are essentially investing in complete strangers. I'm thankful someone saw something in me."
CARE, or the College Access Responsibility Endeavor, is a scholarship program for students who excel in academics, involvement and engagement. The Camden E. and Dortha Sue Greene CARE Endowed Scholarship was established through a $1 million campaign gift from alumnus Richard Greene in 2014 and was funded through the Camden E. and Dortha Sue Greene Foundations. The scholarship benefits the Office for Diversity and Inclusion at the university and supports academically accomplished and promising underrepresented students from Arkansas who demonstrate financial need.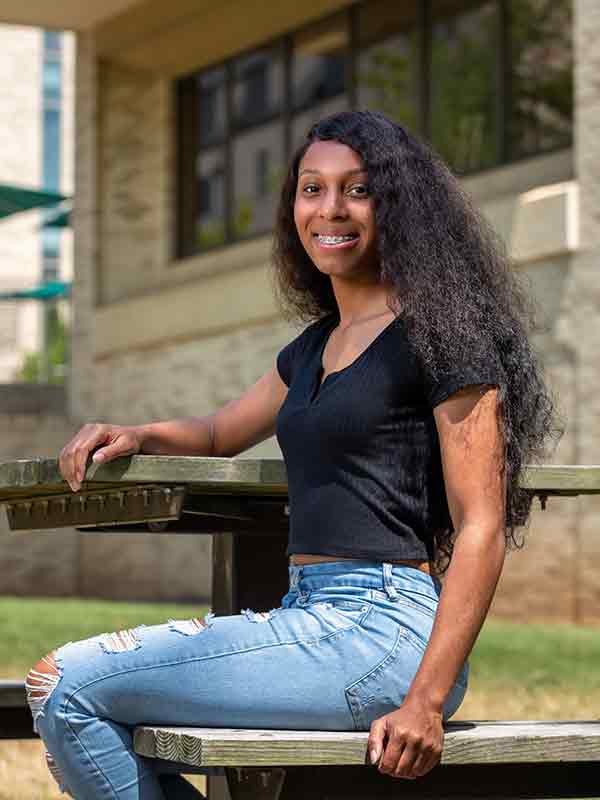 Ayanna Evans
Contact
Ben Carter
Senior Director of Development
479-575-4663
bcarter@uark.edu