Student Affairs
"We [Mike and I] feel fortunate to be able to create two Advance Arkansas scholarships that are awarded to a student from Arkansas. We know the importance of earning a college degree and want to be able to provide resources to students from Arkansas to assist them in their career goals."

- Cindy Bonds
When Scholarships Open Doors
Seth Cobb was facing a tough choice – drop out of the U of A to work full-time or face debilitating debt to finish college and realize his goal of becoming a nurse.
Then, a scholarship came along. Cobb, a former Army medic, received the Mike and Cindy Bonds Advance Arkansas Endowed Scholarship thanks to a gift from the Winnetka, Illinois couple who served as co-chairs of the Division of Student Affairs campaign committee, as well as other university leadership roles. The scholarship was created to specifically help students like Cobb who graduated from Arkansas high schools and helps pay for college expenses. Thanks to the gift, Cobb was able to work part time while finishing his degree and serving as a student leader for fellow veterans.
"When I found out I was receiving the scholarship, I was in shock," Cobb said. "I had to sit down, embrace the moment and enjoy the relief I felt from knowing that everything was going to be alright.
Originally from White Hall, Cobb says he always knew he wanted to join the military. After sustaining a shoulder injury while he was stationed as a medic in Ft. Bragg, North Carolina, he had some time to reflect on his future. And he decided he wanted to return home and pursue a nursing degree.
"Growing up, I'd always known this was the place you wanted to be," he said. "Fayetteville is a beautiful town, and the region is unbeatable. I knew I would have a good time here and get a quality education."
Cobb was doing just that – working through his classes and acclimating to life on campus – when his mother encountered some financial obstacles.
"My mom was struggling to pay her bills, and I was working more and falling behind in my academics," he said. "I had a lot of stress about how I was going to pay for things. Without donors, I might not be here right now. It's truly a life-changing gift that donors give to students. This scholarship has opened doors. This scholarship allowed me to focus on school again, and I've been able to continue helping my mom as well."
On campus, Cobb is president of the Razorback Student Veterans, a student organization that lends support to students who have either served or are currently serving in any branch of the U.S. military. The group is a part of the Veterans Resource and Information Center, a unit on campus in the Division of Student Affairs that serves current student veterans.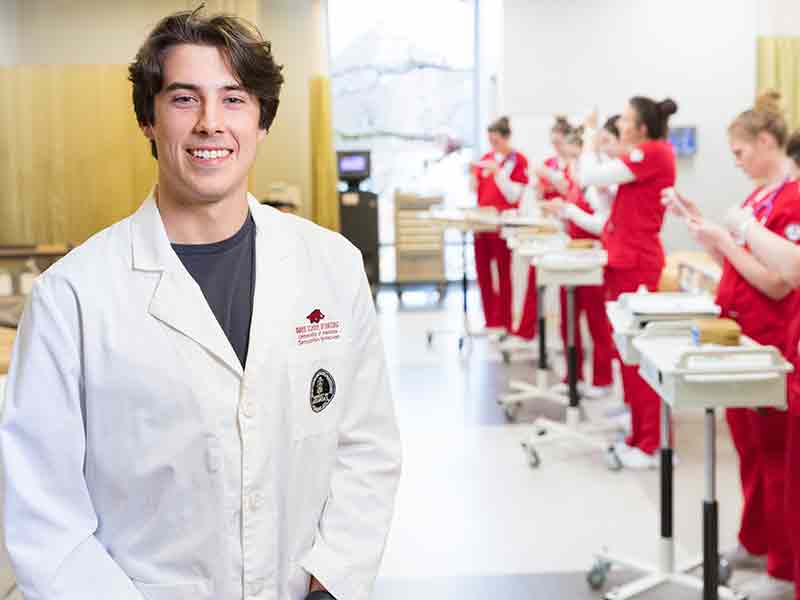 Seth Cobb
Contact
Ben Carter
Senior Director of Development
479-575-4663
bcarter@uark.edu