The Scientist
Tameka A. Jennings is a faculty member because of private gift support.
Growing up in Gould, a small town in the Arkansas Delta, Jennings knew she wanted to attend college. Her parents supported this goal but also knew they couldn't afford to help her.
"If I had not had a scholarship, there's no way I could've completed my undergraduate degree," she said.
Thanks to that funding, her own incredible drive and influential mentors, she did complete her degree. And she went on to earn a doctorate from the University of Arkansas in cell and molecular biology.
Jennings is now a clinical assistant professor in the J. William Fulbright College of Arts and Sciences at the University of Arkansas and continues to benefit from private gift support – this time in the form of grants from the Women's Giving Circle, an organization made up of alumnae and friends who believe in making an impact through philanthropy. With this funding, she has found a way to help a new generation of students from the Arkansas Delta.
Her summer camp, Root of STEM: Recruitment of African-American Women, launched in 2015 with funding from the circle and was followed by another grant from the organization in 2016.
"Had it not been for the Women's Giving Circle, there's no way I could've implemented this program," she said. "They not only provided funding but support, time and wisdom as well."
Programs like Jennings' are the reason behind the Women's Giving Circle's existence. Created in 2002 to encourage women as philanthropic leaders, the circle is made up of women who believe in pooling their resources to support timely opportunities affiliated with the University of Arkansas campus. Through 2017, the circle awarded more than $1.2 million in grants to 92 recipients in areas such as quality of life, safety, children and healthcare research.
In many cases, an initial grant from the Women's Giving Circle serves as seed funding to help innovative ideas come to fruition, and recipients are often able to secure additional external funding thanks to this start.
Jennings' program has received attention since its launch and garnered a campus visit from the state's lieutenant governor. The next step, Jennings says, is to apply for federal funding so the program can be sustained. So far, it has influenced the lives of 35-40 young women in the Delta and has even indirectly inspired one student from the area to attend the U of A.
Philanthropy has been a difference-maker for Jennings, and she realizes the impact it has on others.
"It's life-changing and revolutionary," she says.
Invest in Innovative Programs
Campus programs, like the Women's Giving Circle, teach the importance of philanthropy and raise awareness for the role students, faculty and staff can play in helping others.
Private gift support is used for operating costs and activities critical to our programs on campus; to develop and implement interdisciplinary courses, curricula, minors and professional master's degree programs; and to promote greater globalization for teaching, research and outreach.
Outreach activities, like the ones developed by Jennings, are at the core of the university's land-grant and flagship responsibilities and help provide life-changing opportunities for citizens of Arkansas.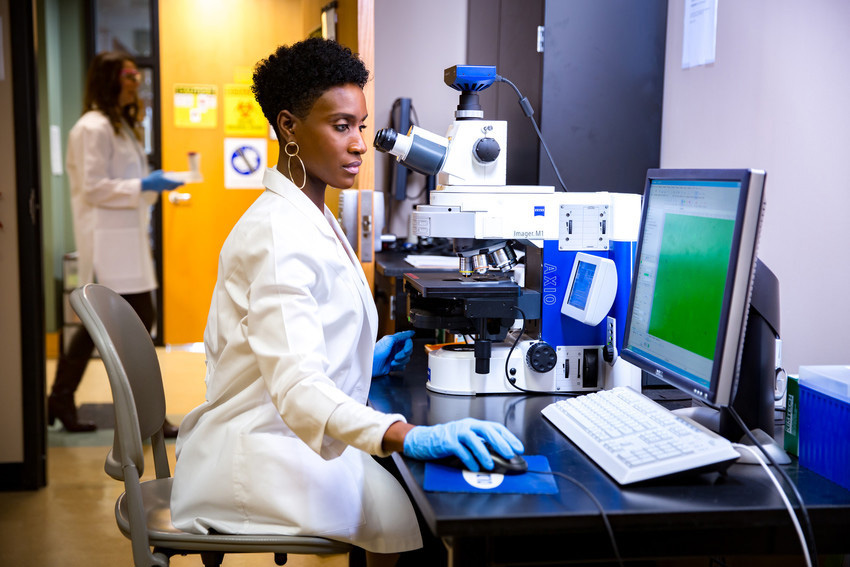 Tameka A. Jennings
Other Program Stories