Safety in Numbers
The safety of students on the University of Arkansas campus is a top priority, and services like Safe Ride uphold this commitment.
Safe Ride provides students with a free and safe means of transportation from any uncomfortable or inconvenient situation and delivers them directly to their local address registered with the university. The program operates under a partnership between the Associated Student Government and Parking and Transit and recorded 6,320 riders and more than 10,000 passenger miles during the 2019 academic year.
Sage McCoy became the graduate assistant for Safe Ride while she was pursuing her master's in higher education at the university. She and her peers realized that, while most of the funding for the service came from student fees, there were additional opportunities that could be offered with private gift support. One area in particular that needed attention was marketing.
"It's really cool that Safe Ride is a free-of-charge, safe transportation service for students by students," McCoy said. "The support we receive from donors is an investment in student safety. Their contributions help ensure that people are getting home and staying safe."
Andrew Hudspeth, current Associated Student Government Safe Ride Chair said for some students, the cost of a paid ride home can be prohibitive.
"Students often utilize paid rideshare companies (like Uber or Lyft) because of their convenience and quickness," he said. "But the reality is that many students do not have the financial resources to use these services."
Thanks to private gifts raised for the program, McCoy and the Safe Ride team have been able to expand their pick-up and drop-off hours on campus, provide professional development – like first aid and CPR – for students who are drivers, send students to conferences to learn about similar programs and market their services more widely to the student body.
"Supporting the Safe Ride program is investing in the security and prosperity of the University of Arkansas community," said Stephanie Galen, the Safe Ride Chair prior to Hudspeth. "Safe Ride promises reliable transportation home for students, whether it be from studying or working on campus or as an insurance policy on a Saturday night out. In addition to making up the largest share of ridership, students play a significant role in the organizational structure. I am proud to advocate for the inherent value of the program as both a safety service and a place to cultivate student leadership."
Safe Ride offers on-campus only service on Mondays and Tuesdays and service within all of the Fayetteville city limits on Wednesdays through Saturdays. For more information about the program, visit the Safe Ride website.
Private Gifts Propel Programs
Campus programs, like Safe Ride, enhance the student experience at the University of Arkansas.
Philanthropic gifts are used for operating costs and activities critical to our programs on campus; to develop and implement interdisciplinary courses, curricula, minors and professional master's degree programs; and to promote greater globalization for teaching, research and outreach.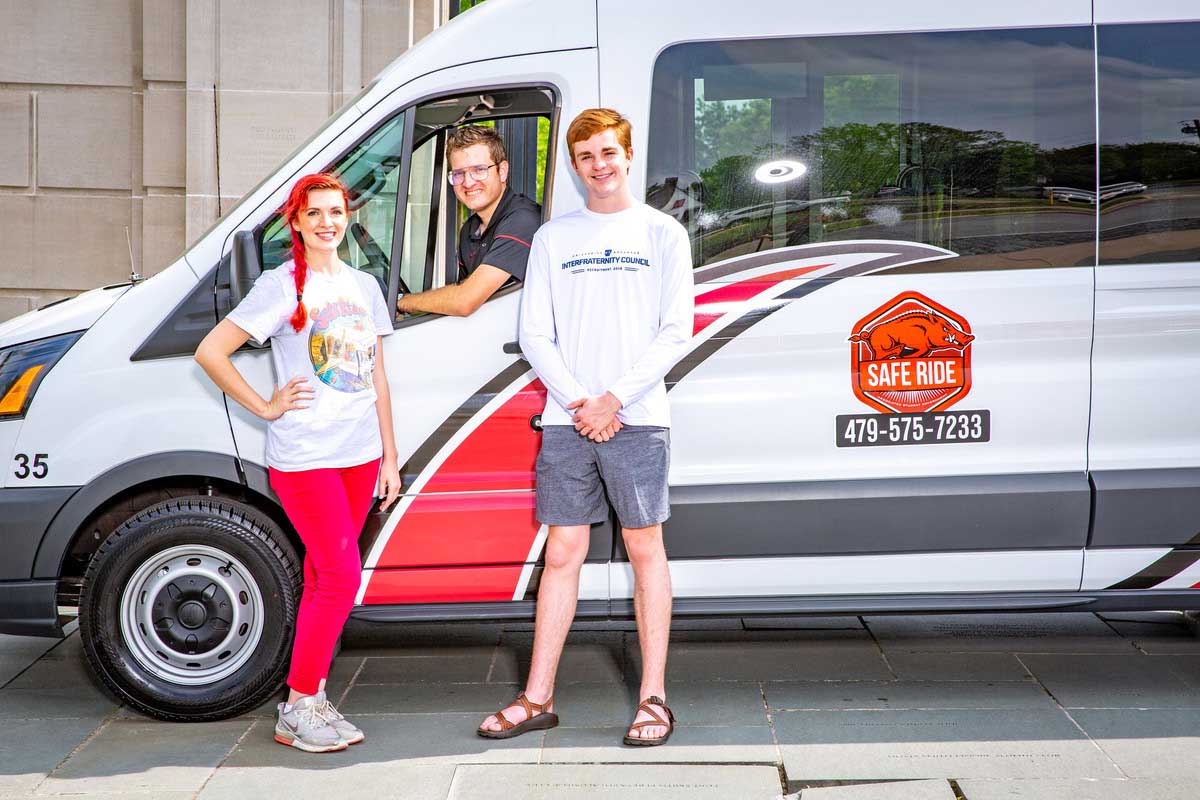 Safe Ride
Other Program Stories