Helping the Hungry
Food insecurity — the academic term for not having enough to eat on a regular basis — affects more than 14 percent of American households. And it's even worse in Arkansas: More than 21 percent of all households are "food insecure," as are nearly 29 percent of Arkansas children, according to the U.S. Department of Agriculture.
The solution seems obvious: distribute surplus wholesome food to those who don't have enough of it. There's a lot more to it, but the University of Arkansas is at the forefront of figuring out how to do just that.
Campus efforts to match food with need began in 2012 when Susan Schneider, director of the University of Arkansas School of Law's LL.M. program in agricultural and food law, wanted to do something. Schneider secured a grant from the Women's Giving Circle, and the Food Recovery Project was born.
In 2013, James Haley, a research fellow in the school of law's graduate program in agricultural and food law, put together a legal guide to the federal law that protects food donors. That same year, Razorback Food Recovery organized under the umbrella of the university's Volunteer Action Center. Working with university dining contractor Chartwells, Razorback Food Recovery began harvesting unused food from the Arkansas Union in early 2014. Most of the food is distributed to local service agencies, though some of it stays on campus to meet the needs of university students, faculty and staff at the Jane B. Gearhart Full Circle Campus Food Pantry. Both the Food Pantry and Food Recovery program are housed under the U of A's Center for Community Engagement.
In 2016, the U of A hosted the third annual Food Waste and Hunger Summit on campus, thanks in part to a gift from Tyson Foods, Inc., which also supported the Food Pantry and the Food Recovery program. In the future, the U of A will host a national conference on food waste and hunger, so our students can share what they've learned with hundreds of students from around the country.
Continuing the Story…
Program support is used to increase staff and support activities critical to our programs on campus; to develop and implement interdisciplinary courses, curricula, minors and professional master's degree programs; and to promote greater globalization for teaching, research and outreach.
Research activities, graduate and undergraduate course offerings and professional development and continuing education opportunities combine to form the foundation and structure for centers. Each academic partner brings complementary expertise to the organization.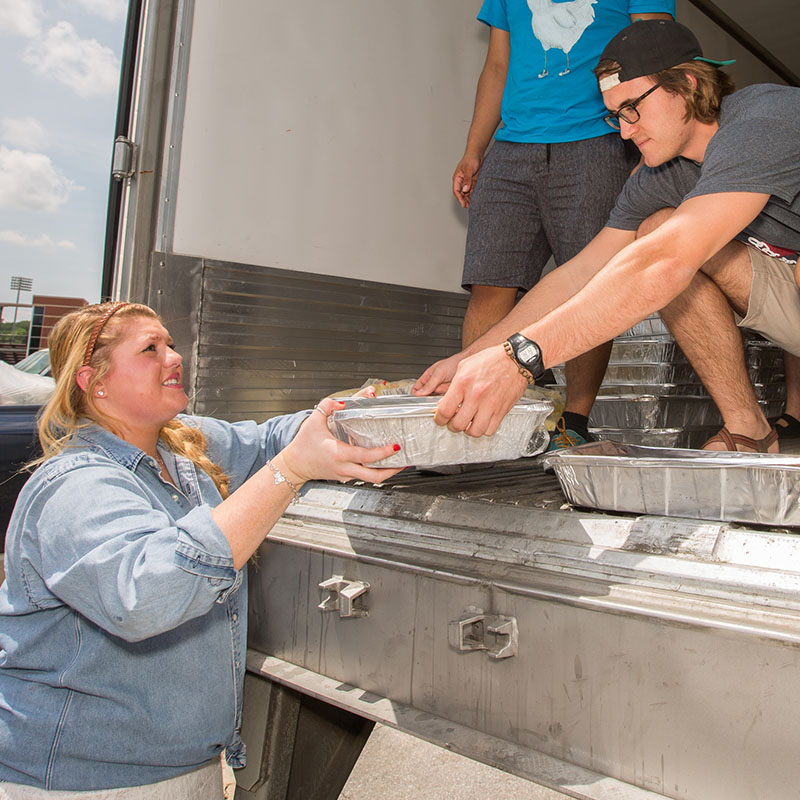 Razorback Food Recovery
Other Program Stories