Support for the Voice Within
When Jason Burrow was announced as a Connor Faculty Fellow at the University of Arkansas, he felt deeply appreciated for his work as an assistant professor in the Department of Theatre.
"I knew my work could be impactful," Burrow said. "Receiving this support meant they trusted me to know what I needed to be even more successful."
Sandra and Bob Connor of Little Rock established the Connor Endowed Faculty Fellowship in 2004 to provide essential faculty development opportunities to rising experts in the J. William Fulbright College of Arts and Sciences. Since its inception, the Connors' endowment has enabled Fulbright College to recognize 158 Connor Fellows, many of whom are now leaders in their departments, serving in administrative capacities or in prominent teaching and research positions.
Burrow was named a Connor Fellow in 2018 and used his stipend to attend the LoVetri Institute for Somatic Voicework™ at Baldwin Wallace University in Berea, Ohio. He describes the institute's namesake, Jeanie LoVetri, as a pioneer of voice pedagogy for modern musical styles, and her method proved beneficial, allowing Burrow to combine singing instruction with voice science. The institute included a three-level certification course, as well as practice sessions with fellow teachers, and the knowledge Burrow gained is already being put to use for the betterment of his students.
"This experience gave me added confidence and security in my teaching," Burrow said. "I can now hear a student's voice, hear what they need and fix it. It allows me to provide a remedy for something you can't see.
"Theatre is much like an apprenticeship program. I have a responsibility to help my students get a job, which is what they will all eventually need. My students already have a clearer understanding of the path they need to take to succeed after graduation and become employable."
Burrow joined the University of Arkansas in 2015 from New York University's Tisch School of the Arts, New Studio on Broadway. He said he loves teaching because it's different every day, and he never gets bored.
"You really do learn from your students," he said. "In the process of teaching, we all learn how to be better humans."
Attract Talented Faculty
To attract – and retain – key faculty, it is important to invest in them, especially in the form of endowed chairs or fellowships. Scholarships often entice students to come to the University of Arkansas, and endowed faculty positions are incentives for faculty to join the university.
In addition to chairs and fellowships, faculty support endowments are another excellent way to ensure our faculty members have the resources needed for success.
Endowments like the Connor Faculty Fellowship provide essential faculty development opportunities to rising academic experts in their fields.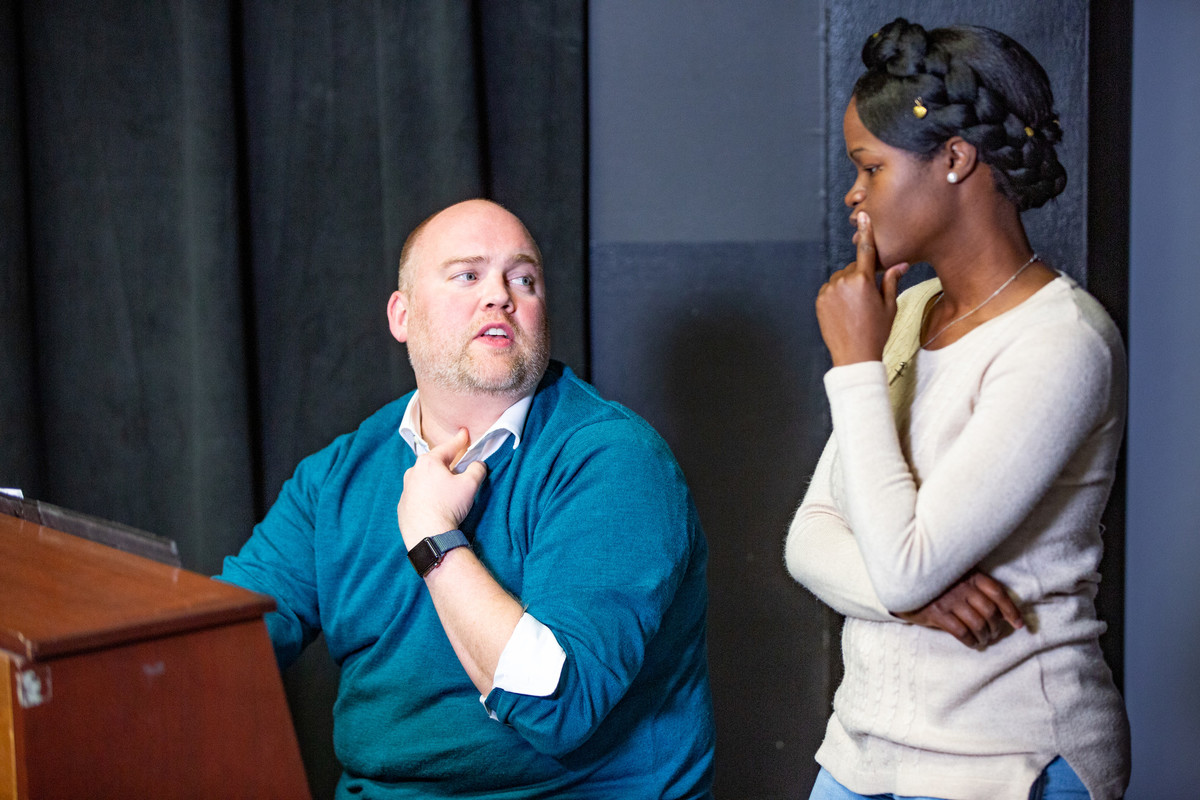 Jason Burrow