Explorations in Entrepreneurship
Jerry Brewer wanted to remove boundaries for anyone on the University of Arkansas campus – no matter their background, grade point average or major – so they could achieve success in entrepreneurship. He and his wife, Kay, along with their son, Clete, and his wife, Tammy, contributed a combined $600,000 to create the Brewer Family Entrepreneurship Hub for aspiring entrepreneurs. Located just off the historic Fayetteville Square, the Hub supports people from all disciplines across campus, serving as a home base for entrepreneurial students, faculty and alumni to help them develop ideas, launch companies and meet likeminded individuals.
Since its creation, the Hub has become a gathering space for camaraderie, creativity and collaboration for people like Flavia Araujo, Douglas Kamarade and Joseph Daniels.
Araujo earned a bachelor's degree and M.B.A. from the Sam M. Walton College of Business and was part of the new venture development class taught by Carol Reeves and Sarah Goforth. In that class, she joined the Lapovations start-up team, which became the winningest team in the university's history.
Every time Araujo returns to the Brewer Hub, she relives some of her favorite memories, thanks to the trophies and prize money checks displayed in every corner.
"I think about the amazing experiences we had with other entrepreneurs across North America and the people who helped our team every step of the way," she said. "Our faculty advisors played a huge role in our development as professionals and people, and being able to still come to the Hub and ask for any kind of advice speaks volumes about what it has to offer. I often leave there more inspired, confident and grateful for opportunities than when I first arrived."
Douglas Kamarade studies industrial engineering at the university and has utilized the Hub for more than a year during his time as a student. He said it helps him learn more about the professional world and the nature of business.
"It also teaches me a lot about how start-ups actually start," he said.
Joseph Daniels, a doctoral graduate from the College of Engineering, enjoys the working environment the Hub offers and describes the culture as "community centric."
"I enjoy the hands-on resources that foster collaborative work and visual creative thinking," he said. "I also enjoy the organic networking opportunities the Hub provides on any given day of the week, as it hosts a diverse group of people, groups and organizations throughout the Fayetteville and Northwest Arkansas community."
Araujo has also benefited from the networking opportunities the Hub provides.
"The experiences I had in those rooms gave me skills and capabilities that opened doors for new professional aspirations, as well as a network of leaders and top executives from the most diverse industries – some of whom I now get to call friends and mentors," she said. "The Hub gave me a home to explore entrepreneurship like no other place."
Building Opportunity
Naming opportunities are available throughout the university in connection with ongoing and planned capital projects.
Gifts of capital support are instrumental in providing high quality facilities and cutting-edge, technology-rich spaces that enhance teaching, learning, research and innovation.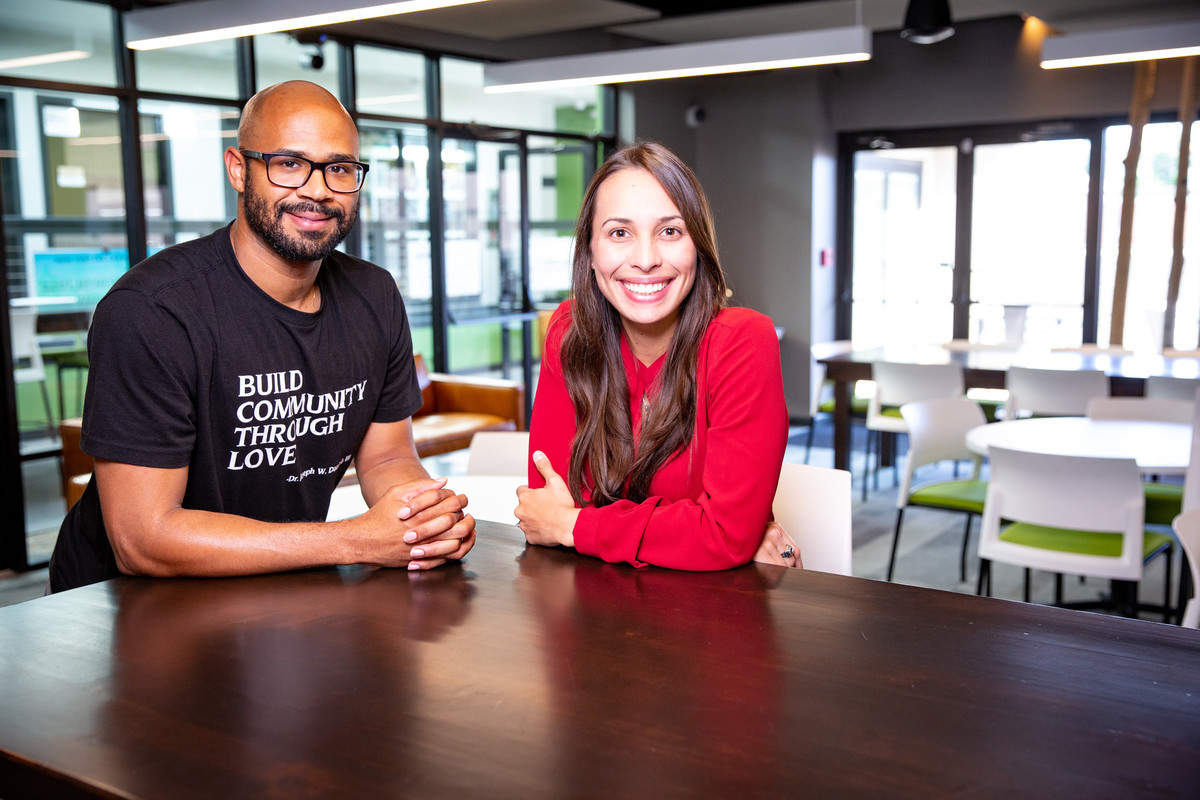 Joseph Daniels and Flavia Araujo
Give Now to Support Our Facilities
Other Capital Support Stories