Equipped for Success
Even the most seasoned chefs hold their breaths while watching someone take the first bite of a meal that's been painstakingly prepared. Each semester on the University of Arkansas campus, hospitality management students get a taste of this as they plan, create and serve a carefully curated meal to faculty, staff and fellow students at the Pineapple Café, a student-run and faculty-guided dining experience through the Dale Bumpers College of Agricultural, Food and Life Sciences.
Under the direction of Chef Lobat Bayyari, an instructor in the School of Human Environmental Sciences, Ashlin Forbis of Paris, Arkansas, and Megan Jennings of Madison, Mississippi, learned first-hand how to prepare and serve an intricate meal for large groups of guests.
"Cooking on this scale is what I've always wanted to learn, and it's incredible that the university has the ability to teach its students these skills," Forbis said. "I learned how to manage time well, which will help me in all aspects of the hospitality field."
These skills, Forbis noted, were exactly what she set out to hone when she enrolled in the class.
"It is one thing to cook at home for you and your roommate but another thing to work with equipment at this scale and learn from a chef who has had many years of experience," she said."
Jennings admits that she had done very little cooking on her own before the class and was initially nervous about the responsibilities that came with working in the café.
"There were many key things I learned throughout this experience, but one that really stuck with me is how prepared you need to be before cooking a huge meal for 50 people," she said.
The essential ingredientforthe slicing, dicing, assembling and – most importantly – learning done in the Pineapple Café is the Maudine Sanders Commercial Kitchen, a facility which was made possible by a planned gift.
"Working in the kitchen was amazing," Forbis said. "We had all the equipment needed to produce these meals and more. The quantity of equipment was important too. There were so many trays and pans and utensils, which is what you need when having that many cooks in the kitchen."
"The working space we had to complete our luncheons was very useful and gave us enough room to complete all our tasks," Jennings added. "We are grateful to have the kitchen and respectedevery piece of equipment we have."
After completing this experience, Forbis and Jennings will be well-prepared for the next step in their journeys. And it's given them the opportunity to see their future on a larger scale. "This class has given me the opportunity to see myself in the shoes of a chef one day," Forbis said. "Having this kitchen gives us real-world experience while still in school. Since taking this class, I can see myself preparing farm to table meals. In the future, I've thought about shopping local, having a farm and continuing agri-tourism in Arkansas. This concept involves showing customers where their food is coming from and then teaching them how theycan cook these fresh meals at home. This experience has opened new doors for me in hospitality."
Build a Legacy
Naming opportunities are available throughout the university in connection with ongoing and planned capital projects.
Gifts of capital support are instrumental in providing high quality facilities and cutting-edge, technology-rich spaces that enhance teaching, learning, research and innovation.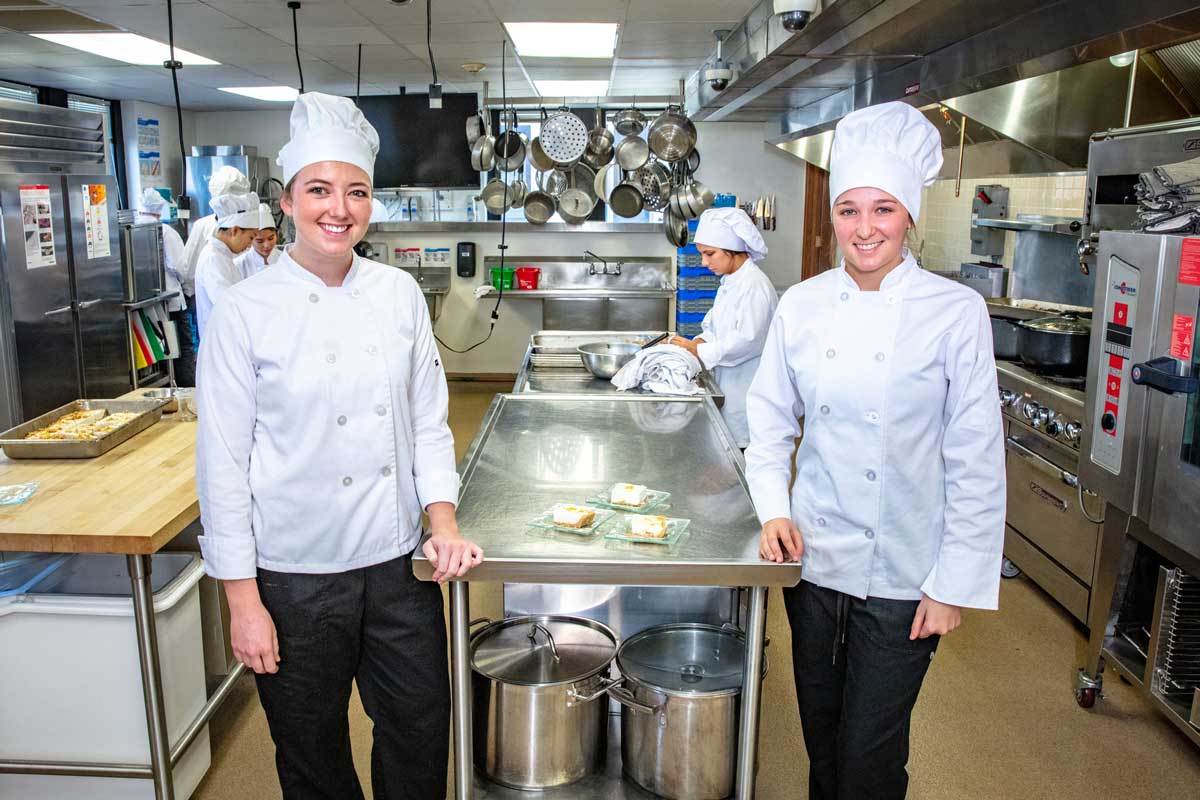 Ashlin Forbis and Megan Jennings
Give Now to Support Our Facilities
Other Capital Support Stories