Advance Arkansas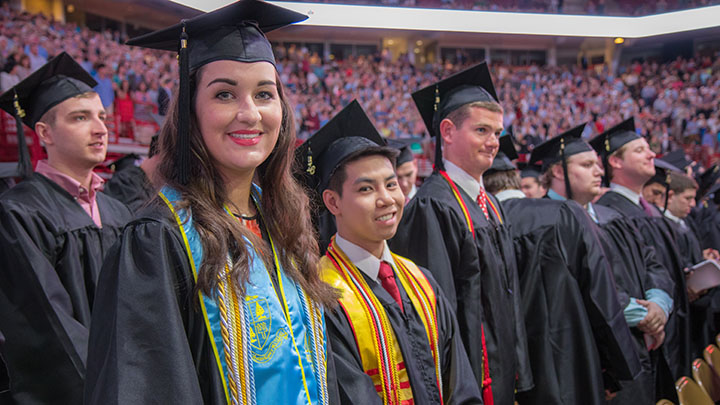 Advance Arkansas is a University of Arkansas scholarship initiative that creates campus-wide scholarship endowments to support new, returning, and transfer students from Arkansas who exhibit some financial need, a record of academic success, and a strong desire to complete their degree at the University of Arkansas. Award preference may be given in the categories of first generation, community leader, talented transfer, or resilient Razorback, and scholarships are renewable to students regardless of their field of study with acceptable progress toward a degree. This scholarship endeavor centers on changing the lives of all Arkansans.
The Impact
The Advance Arkansas initiative at the University of Arkansas catalyzes the potential of the state's rising leaders by giving them resources to succeed academically at a nationally competitive institution, in turn providing a mutual flow of local talent between the university and state. This initiative speaks to donors who wish to help Arkansans make the University of Arkansas their school of choice, thereby providing better educational opportunities for more citizens of this state.
Advance Arkansas scholarships emphasize the following student support areas: (1) First Generation, which is awarded to new freshmen who aspire to be the first in their families to earn a four-year college degree, (2) Community Leader, which is awarded to new freshmen who demonstrate significant acts of service within their communities, (3) Resilient Razorback, which is awarded to U of A students who have persisted in maintaining a compelling academic record, and (4) Talented Transfer, which is awarded to incoming transfer students with a strong academic record and commitment to degree completion at the U of A.
Donors may choose to have their gifts directed to the Chancellor's Advance Arkansas Endowed Fund or may establish a new named endowment fund.
Learn more about the financial needs of our students and how Advance Arkansas addresses these needs.
The Investment
The minimum endowment required for Advance Arkansas scholarships is $50,000.
Contributions may be given over a five-year period to establish the endowed fund. Once the minimum funding level has been reached and sufficient earnings established, the scholarship will be awarded.
Donors can make an additional gift of $2,000 per year to the spending account to ensure the scholarship can be awarded sooner.
The Students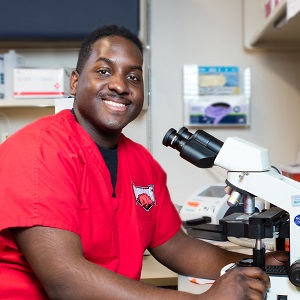 Justin Miles was one of the Advance Arkansas program's first beneficiaries. A native of Gilmore, Arkansas, Miles knew he wanted to come to the University of Arkansas for its pre-med program, but he couldn't afford college. After high school, he joined the military and used that experience to earn an associate's degree.
Miles came to the university in 2014 and took out loans for his first two years of school. Then, scholarship support kicked in during his third and fourth years, allowing him to pay off his loans. He graduated debt-free from the university in 2018, thanks to his scholarship support.
"The people at the university were the best part of my experience," he said. "The diversity of the student body was incredible, as were the opportunities to get involved."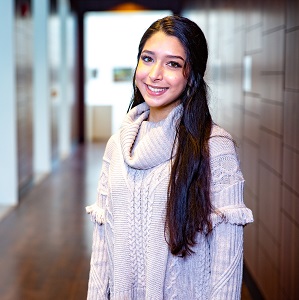 Faaiza Bhatti also felt welcomed when she transferred from another school after her freshman year, although the Little Rock native was initially skeptical about applying because of finances.
When she received the scholarship, though, it took a weight off her shoulders. And at the U of A, Bhatti had a completely different community experience.
"I really like how the students are open-minded," Bhatti said. "I'm looking forward to what will change with my life. I probably wouldn't have come here without that scholarship. I'm really glad I transferred here, and I couldn't imagine being anywhere else."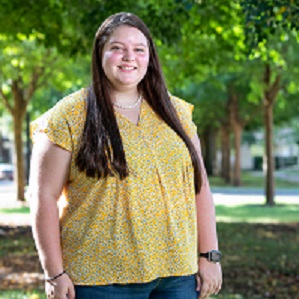 Fort Smith native Anna Kate Dooly has benefited from her scholarship's support since her freshman year, allowing her to focus on her studies and become involved in extracurricular activities without worrying about her finances and expenses.
"I was super excited when I found out I was receiving this scholarship," Dooly said. "I just really love school in general, and I'm very thankful for what this scholarship has done for me and my education."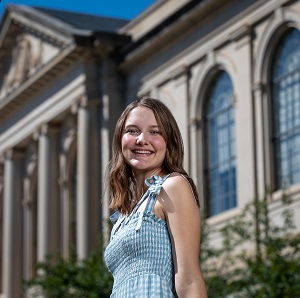 Angel Williams, a 2020 recipient, is one of the latest students to experience the difference made by an Advance Arkansas scholarship. The Bentonville native is a freshman majoring in interior design and says she is paying for her education on her own.
"Coming from a family unit with no college experience has been challenging, but I hope to finish out school and have control of my life in the workforce that my parents weren't as fortunate to have," Williams said. "I truly feel like this campus is the perfect fit for me, and I can't wait to explore the beautiful architecture of our campus and learn everything I can about this industry."
Contact us to make your gift today:
Ben Carter, Senior Director of Development
(479) 575-4663