Advance Arkansas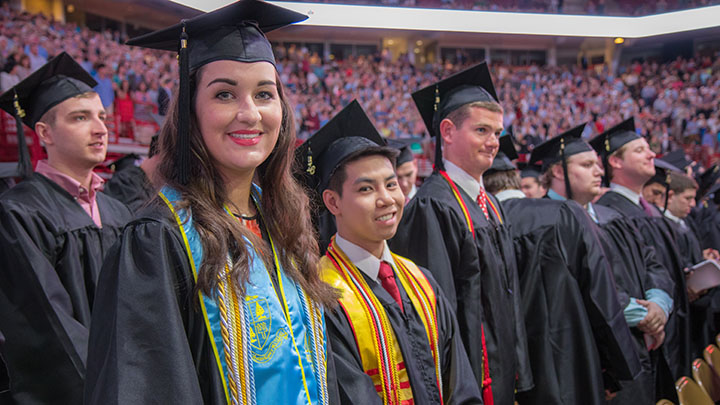 Advance Arkansas is a University of Arkansas scholarship initiative that creates campus-wide scholarship endowments to support new, returning, and transfer students from Arkansas who exhibit some financial need, record of academic success, and civil engagement or community leadership. Recipients will also show a deep sense of connection to region and state, a strong desire to attend and graduate from the University of Arkansas, and preference will be given to students who are first in their families to pursue a four-year baccalaureate degree. Importantly, the scholarship is portable with the student regardless of their field of study and is renewable with acceptable progress toward a degree.
The Impact
The Advance Arkansas initiative at the University of Arkansas catalyzes the potential of the state's rising leaders by giving them resources to succeed academically at a nationally competitive institution, in turn providing a mutual flow of local talent between the university and state. This initiative speaks to donors who wish to help Arkansans make the University of Arkansas their school of choice, thereby providing better educational opportunities for more citizens of this state.
Advance Arkansas scholarships emphasize the following student support areas: (1) Community Leadership, which is awarded to new freshmen who demonstrate significant acts of service within their communities, (2) First Generation, which is awarded to new freshmen who aspire to be first in their families to earn a four-year college degree, (3) Resilient Razorback, which is awarded to U of A students who have persisted in maintaining a compelling academic record, and (4) Talented Transfer, which is awarded to incoming transfer students with a strong academic record and commitment to degree completion at the U of A.
Donors may choose to have their gifts directed to the Chancellor's Advance Arkansas Endowed Fund or may establish a new named endowment fund.
The Match
The University of Arkansas is setting aside $2.5 million to match the spending account earnings generated by Advance Arkansas scholarship endowments, doubling the impact of the contributions.
An endowment generating $2,000 in scholarship spending will be matched with another $2,000 by the university, for a total scholarship award of $4,000.
Scholarship amounts will be awarded at a minimum of $4,000 or up to $8,000, depending on student need or strength of application.
The Investment
The minimum endowment required for Advance Arkansas scholarships is $50,000.
Contributions may be given over a five-year period to establish the endowed fund. Once the minimum funding level has been reached and sufficient earnings established, the scholarship will be awarded.
To secure the match immediately while the endowment is building, donors can make an additional gift of $2,000 per year to the spending account to establish the scholarship and receive the match, doubling their scholarship impact immediately.
Contact us to make your gift today:
Charles Robinson, Vice Chancellor for Student Affairs
(479) 575-5007
Ben Carter, Senior Director of Development
(479) 575-4663