Student Success Center
The University of Arkansas has designed a comprehensive strategy to advance student success – one student at a time – and it is a top priority for Chancellor Steinmetz. A significant factor in this strategy is the construction of the Student Success Center that will unify, enhance and fully realize the alignment of a personalized academic, financial and social support system for all students at the university.
A Physical Space To Maximize Every Student's Potential
The Student Success Center will convey the message that academic success is attainable for all students.
Centrally located on campus, just north of Old Main and adjacent to Memorial Hall, the center will house all of the new student success programming and initiatives. This academic hub is ideal because of its convenience and visibility for students, faculty and staff.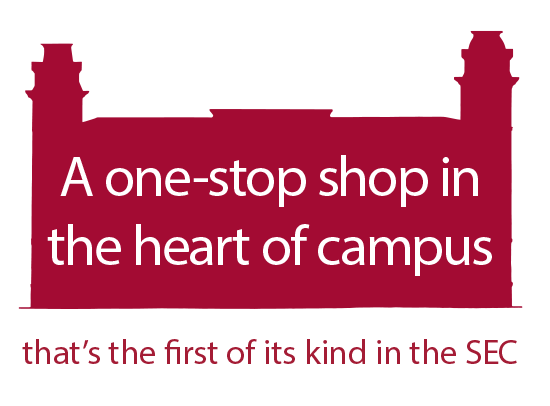 Key Objectives of the Student Success Initiative:
Enhance Pre-Enrollment Experience of Incoming Students
Increase Semester-to-Semester Retention and On-Time Graduation
Improve Transition to College
Develop Career Outcomes
Read 2020: Focus on the Future
Student Success Center
Planned opening: 2022
Square footage: 71,000
Floors: Garden, Main, Second, Third
Key spaces include:
360 Advising Studio
Fulbright Advising Studio
World Languages and Cultures Studio
Writing Studio
Communication Studio
STEM Studio
Entry, Lobby, Welcome & IT Desk
Teaching and Faculty Support and Fellows
Tutoring Space
Terrace Room
Mentoring Space
Core and Cross-Functional Team Space
Courtyard and Outdoor Dining
The Case For Addressing Student Need
The university's graduation rates have improved substantially over the past 15 years, yet unmet financial, academic and social needs still hinder academic success for many students. Key indicators presenting challenges for students to achieve success include:
Over $12,500 in unmet need for first-year students
High school grade point averages below 3.2
First-generation college student status
Living off campus in first year
Enrolling fewer than 20 days before first fall semester
Just under half (49%) of Arkansas-resident freshmen fall into one or more of these categories of need.